How To Choose Your Mattress Thickness?
When it comes to thickness, people might associate it with luxury and extra comfort. But How thick your mattress should be does have its benchmarks and measurements based on your sleeping preference, your body weight, height of your bed base, etc. 
The thickness of the mattress is also referred to as its height or depth. Mattresses thicker than 16 inches are often called extra deep or extra tall mattresses.
Also the thickness of your mattress affects the height of your bed. Ideally, it should be around 25 inches from the top of your bed to the floor, in which way your feet can reach the floor when you sit on the edge of the bed, making it convenient to get in and out of bed. 
In this article, we teach you how to choose the suitable mattress thickness for yourself. 
Bigger is not always better, especially in memory foam mattresses. 
Memory foam mattress usually contains multiple layers, while each contributes to the overall height. Do not judge a mattress based on its thickness, but its density and load-deflection properties define its quality and performance. 
Mattress thickness chart
Most high-quality mattresses are between 8 to 14 inches thick. Normally they are grouped as follows:
2 to 5 inches: Low profile mattresses

5 to 8 inches: Slim mattresses

8 to 12 inches: Standard mattresses

12 to 16 inches: Thick, deep, or tall mattresses

More than 16 inches: Extra thick, extra deep, or extra tall mattresses
You might notice the first two bullets describe "thin mattresses," but there is a difference between low profile and slim mattresses worth noting.
The thinnest mattresses are usually air mattresses, and a low profile might work well for a toddler or occasional guests. But you need to note that these beds are not comfortable and they break down easily. 
Slim mattresses contain 1-2 layers of foam, and provide certain comfort and durability. But these mattresses accommodate adults better compared with the low profile ones. 
Factors determining mattress thickness
The depth of a mattress depends on the thickness of each of the layers inside it. Most mattresses have 2 layers inside them, but high-quality mattresses may have three, four, or more layers. Each layer contains different materials. These materials affect the cushion, support, and durability of your mattress. The two basic layers found in all mattresses are the comfort layer and the base layer.
We have covered the topic of mattress layers here What's Behind the Thousand Dollar Mattresses. Newentor's Hesperis Mattress is composed of three layers: the first comfort layer of Gel-Visco memory foam while allows the body to experience zero pressure, easily fall asleep and help lower skin temperature, the middle layer is of high-density Q-stretch foam which makes the cushion soft and not collapse, and the last support layer is of highly elastic comfort foam which support the 7-zone pressure point of your body to keep the spine aligned in a natural curve. 
Comfort layer
The comfort layer is the plush top layer of the mattress. In some mattress types such as the innerspring bed, the comfort layer is a pillow top comprising cotton, wool, or poly-foam. A pillow top is a surface layer of soft material, stitched and packed with the mattress cover.
Other mattress types such as latex, hybrid, or memory foam mattresses, have latex or memory foam comfort layers. Their base layers are made of different materials. The contouring and pressure-relieving features of a mattress are dependent on the firmness and feel of its top comfort layer.
Comfort layers are usually around 2-3 inches to provide cushion and pressure relief. The Gel-Visco memory foam of the Hesperis Mattres is around 2 inches and contains gel as the cooling feature to effectively help lower temperature by 1.5-2℃.
These other layers lying beneath the comfort layer are often called transition layers.
Base layer
The base layer, also called the foundation layer, determines mattress durability. In most high-quality mattresses, the base layer comprises at least 50 percent of total mattress thickness. The base layer of Hesperis Mattress is called  highly elastic comfort foam with 6 inches and provides the main 7-zone body support with ergonomic holes design as this picture shows.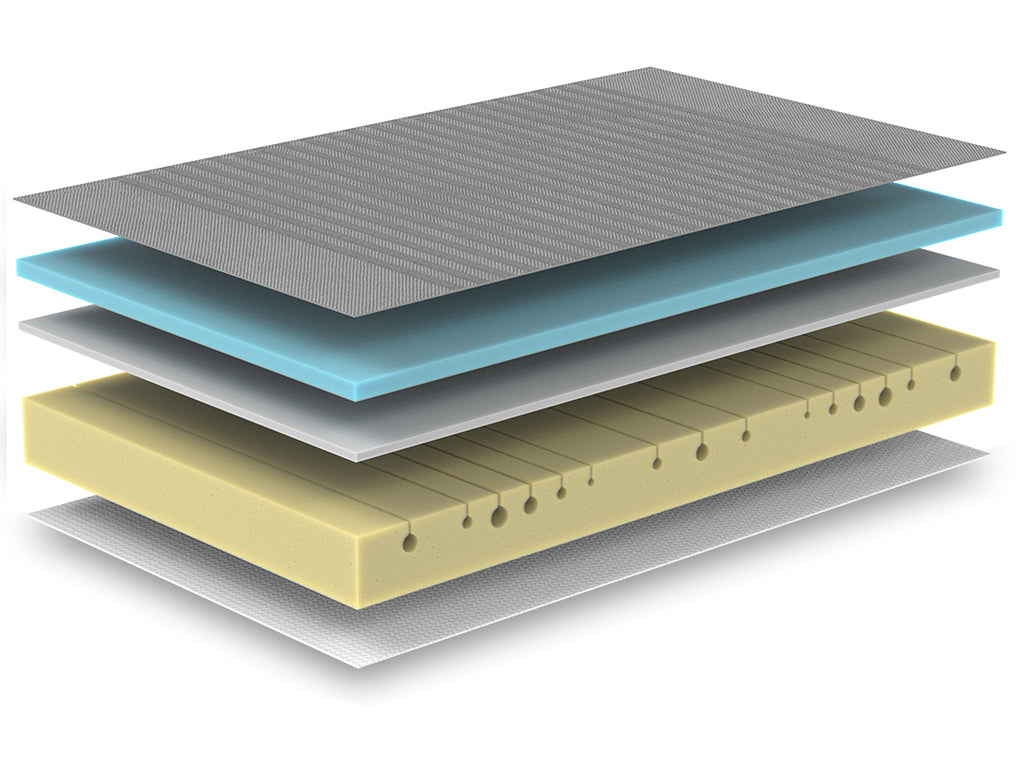 Hesperis Mattress is around 9 inches thick in total with 6 inches of the base layer. Mattresses with a thicker base layer are usually durable because a thick base layer prevents mattress sagging.
In traditional innerspring and hybrid mattresses, the base layer is made of coils. Most memory foam beds sport a poly-foam base layer, while latex beds may have latex foam or poly-foam at the base.
In some beds, the base layers offer customized comfort to different regions of your body such as the head, shoulders, back, hips, and feet. Your head, back, and feet need firmer support, while your shoulders and hips need a softer cushion, that's why we design 7 zone body support with different ergonomic design. 
What to consider when deciding on mattress thickness
If you want one of the most durable mattresses that stays comfortable for years, it should be at least 8 inches thick, including the minimum requirement of a 2 to 3-inch thick comfort layer and 5 to 6-inch thick base layer.
Usually, the thicker a mattress, the softer it feels. In this section, we discuss the factors to consider when deciding on your mattress thickness.
Sleeping position
Certain sleeping positions need more cushioning, while other positions need more support. Mattresses with different thickness levels can cater to these varying sleep needs.
Side sleeping: The best mattresses for side sleepers are generally 9 to 14 inches thick and offer plenty of cushion to the shoulders and hips. These regions bear the weight of your entire body in the side sleeping position. 
The side sleepers need the most different body zone support, while it is not necessary the thicker the mattress, the better. 
Back sleeping: Back sleepers need 9 to 12-inch thick mattresses to support the natural curvature of their spine and prevent spinal misalignment. Spinal misalignment triggers or aggravates back pain, neck ache, or muscle stiffness. 
A mattress 9 to 12 inches tall with a thick supportive base layer and thinner comfort layer supports your back, preventing sinkage.
Stomach Sleeping: Stomach sleepers need 9-inch thick mattresses to reduce the chances of spinal misalignment. Mattresses with a thinner comfort layer will provide a firmer sleeping surface, offering resistance to compression beneath your abdomen.
Combination sleeping: Combination sleepers are usually comfortable on 9-inch thick mattresses with a medium feel. 
Since combo sleepers switch to side, back, or stomach sleeping throughout the night, they need a mattress that provides a balance between firmness and softness.
Body type
The thickness of a mattress and the materials used to make it determine how your mattress responds to your body weight. You should choose a mattress supportive enough for a comfortable night's rest, and that choice is partly determined by your weight.
Lightweight sleepers (weighing less than 130 pounds): Mattresses 9 inches tall or thicker are a good option for lighter people. The thicker comfort layers conform to their body, relieving pressure points and reducing aches.
Average sleepers (weighing between 130 to 230 pounds): Average size sleepers may choose between 9 to 12-inch thick mattresses, depending on their sleeping position. When buying a thick mattress, check the material used to make each of the layers to understand how they affect the feel of your mattress. Average sleepers feel comfortable on a medium bed.
Plus-size sleepers (weighing above 230 pounds): Plus-size sleepers may choose between 10 to 14-inch thick mattresses, with a comfort layer at least 4 inches thick. Thicker comfort layers with sufficient give can prevent mattress sinkage.
Sleeping alone or sharing bed 
Thicker mattresses with their many layers and a tall base layer can be more supportive than a thin mattress. If you are sharing your bed with a partner, there is more pressure on your mattress than when you are sleeping alone. More pressure on a thinner mattress can make it sag. You need a mattress that's at least 9 to 12-inches thick.
Specific medical conditions
People with certain medical conditions such as back pain may need firmer mattresses with thinner comfort layers. 
Mattresses in the 8 to 12-inch range with a medium-firm feel are good for back pain sufferers. These beds are firm enough to support your back and prevent mattress sinkage while being soft enough to conform to the natural curvature of your spine. Conforming to your spine's natural curvature enhances lumbar support, relieving back pain.
Those with arthritis, shoulder pain, or hip pain need softer mattresses for enhanced cushioning. Mattresses 9 to 14 inches thick are a good option for people with these medical conditions. That's because mattresses this thick often have plusher comfort layers that conform to your curves, relieving pressure points off your shoulders, hips, and joints.
Hesperis Mattress
could be adjusted to three levels of firmness, medium, medium firm and firm with shifting the sequence of the three layers, comfort layer, transition layer and base layer.
---