How to Style Your Bed With Pillows
We all dream of an inviting bedroom looking clean and elegant or another style as you prefer. It is a comprehensive topic to be covered fully, but today we will start with the smallest but most obvious item on the bed, the pillows. 
Do you know which size pillows to use and how to style them in different bed sizes, such as kings or queens?
The following suggestions certainly take effort and time, but it will be satisfying to see the results. Spending extra time in the morning can elevate your bedroom scene. Today we will teach you some tips on the layers, details, and textures. Go with our formulas then we guarantee that you won't be laughing at your creations.
A Standard pillow size in Australia is 38cm x 56cm – this is the best type of pillow for sleeping. Opting for a standard pillow for sleeping allows you to make the most of your bed space in all bed sizes, and give you the neck support you need.
A European pillow is a square pillow at 65cm x 65cm. It's generally used as a decorative pillow and can be propped behind your standard pillow to create an ascending size structure. 
There are other pillows you can use, including king pillows (51cm x 92cm), queen pillows (51cm x 76cm), and body pillows or bolsters, though these are less common sizes. Some home decor pros use sham pillows, which have a wider front than back due to the way they're designed.
The best thing about arranging pillows on your bed is that there's no real wrong way to do it. However, there are some basic methods that you can build on to create a gorgeous pillow arrangement. Before you start stacking pillows, there are a few things you'll want to keep in mind.
First, think of your headboard
A headboard that is 2 feet high or more lends itself well to a robust arrangement with multiple pillows propped up for maximum decorative effect.

If you have no headboard to speak of, then you may want to consider a more basic arrangement using stacked pillows.

Beds with open-frame metal headboards also look best with a small number of pillows that won't obscure the decorative framework.

In general, beds with solid, uniformly shaped headboards allow the most versatility when it comes to decorating with throw pillows.
Second plan the color scheme
If you're starting from scratch, you have the freedom to bring home an entire set of complementary bedroom furniture, decor, and bedding that creates the look you want.

If you have already established a bedroom color palette or style, then choose throw pillows that further your desired theme. Pay attention to the color, shape, and fabric of pillows or shams to ensure a cohesive bedroom feel.

Or, you could work backward by finding a must-have throw pillow that the rest of your arrangement can be based on. Whatever method you choose, creating your unique look can be refreshing and fun.
Finally, consider the overall look
Sleek & simple pillow settings
Let's talk about the simplest option. If you're the type that doesn't like having a ton of toss pillows to arrange in the morning, go the hotel route, and stack four standard pillows horizontally for a sleek, simple arrangement.
We typically think this looks best when you have a lower headboard. 
Classic & minimal bedding designs
As we mentioned above, if you have a tall headboard, laying pillows horizontally will feel disproportionate. We like pillows stacked vertically on a bed with a tall headboard. The two outer pillows can have standard shams that match the duvet at the end of the bed, and the standard pillows in the back can be simple sheeted pillowcases.
Classic pillow décor with style
That sham makes more of a statement than the coordinating shams in the duvet collection, and the stitched flange at the edges means it stands up a bit taller. Use these for a tall bed. We'd also add a simple 12×20 decorative toss pillow for a touch of personality.
The timeless pillow balance
This look works for nearly any bed. Choose two euro shams to create height in the back, then add two standard shams in the front. Try shams in different (but complementary) collections to balance and add dimension to the arrangement. When we're mixing bedding collections on a bed, we like to use equal amounts of both collections. Balance is always an important part of mixing and matching, so it's a good rule of thumb to keep in mind when you're shopping!
The tasteful tall with toss
On a bed with a tall headboard like our Isabella, we like using extra tall shams like euros. Euros are also great for beds that don't have an upholstered headboard because they're great for reading and sitting up in bed. For this, we'd simply use two large euro shams and add a toss pillow in the front.
Simple & symmetrical decorative pillows
When ordering bedding, it's only natural to think in terms of pairs. For this kind of arrangement, use two large euro shams and one smaller standard sham and create a symmetrical arrangement. It won't require a ton of pillows but fills your entire headboard and feels balanced with the size of the headboard.
Start with a solid foundation
As a general rule, we spend a third of our lives in our beds, so a great mattress, frame, and set of sheets are worth the investment. When it comes to sheets, the pros usually choose white — because it's classic, of course — but also because it provides a place where your eye can rest once you start making art with colors, prints, and patterns.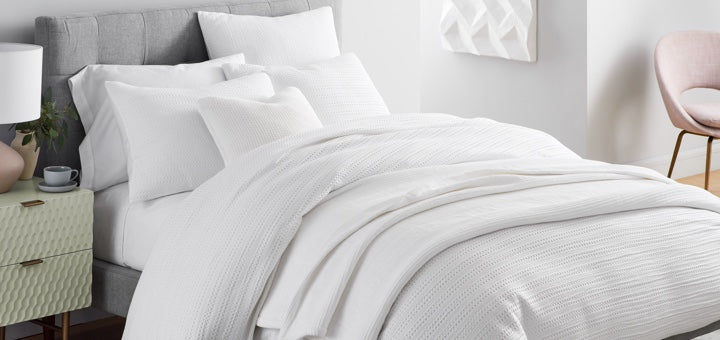 Do the top sheet
Make sure to put the flat sheet in reverse (the finished side down) so that the softness envelops you when you get into bed. Also, the finished side will then be exposed when you fold the banding back. 
Fold the sheet down an inch or two over the top of your comforter or quilt, then fold over both the sheet and the topper once more so that the sheet is pulled tight underneath.
Use a hand steamer to gently remove any wrinkles from the portion of your sheet that shows when folded down.
Bed Layering equation: We prefer a quilt or coverlet paired with a duvet, with the duvet folded at the bottom of the bed.
Pillow Equation (from closest to headboard, out): Start with a standard pillow with cotton (or silk) pillowcase, Euro with sham, then standard pillow with sham, and finally a bolster or lumbar pillow. Too many? Skip the standards with sham and follow the Euros with the bolster or lumbar.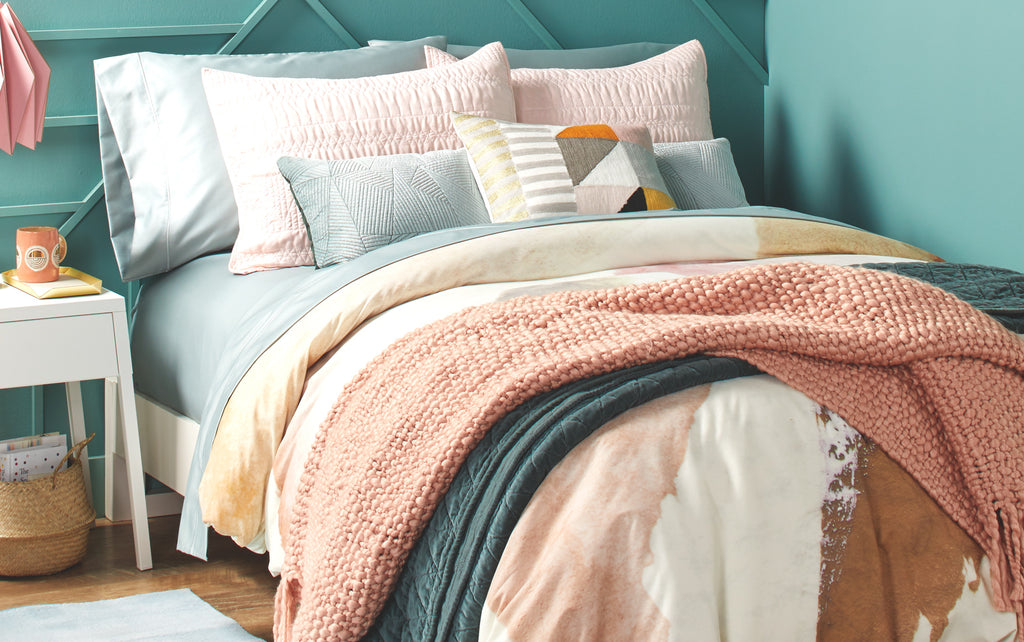 Whatever you do, make your bed every day, even if your office commute is just down to the den. It's a major boost for morale—and your sleeping mood and cycle.
Layer up
No matter what time it is of the year, considering adding layers is key to having a styled bed inviting and comfortable. 
In terms of colors, choose neutral and cozy ones, or play with colors to create layers, depth and contrast, 
Regardless of the time of year, adding layers is key to having a styled bed that looks inviting and comfortable. Opt for neutrals and cozy textures, or play with patterns and colors to create some depth and contrast. 
Place a light cotton coverlet or quilt on top of the sheets followed by your duvet. A quick bed-making trick: fold your duvet in half and then pull the top part back into thirds so you can show off all your pillows and layers.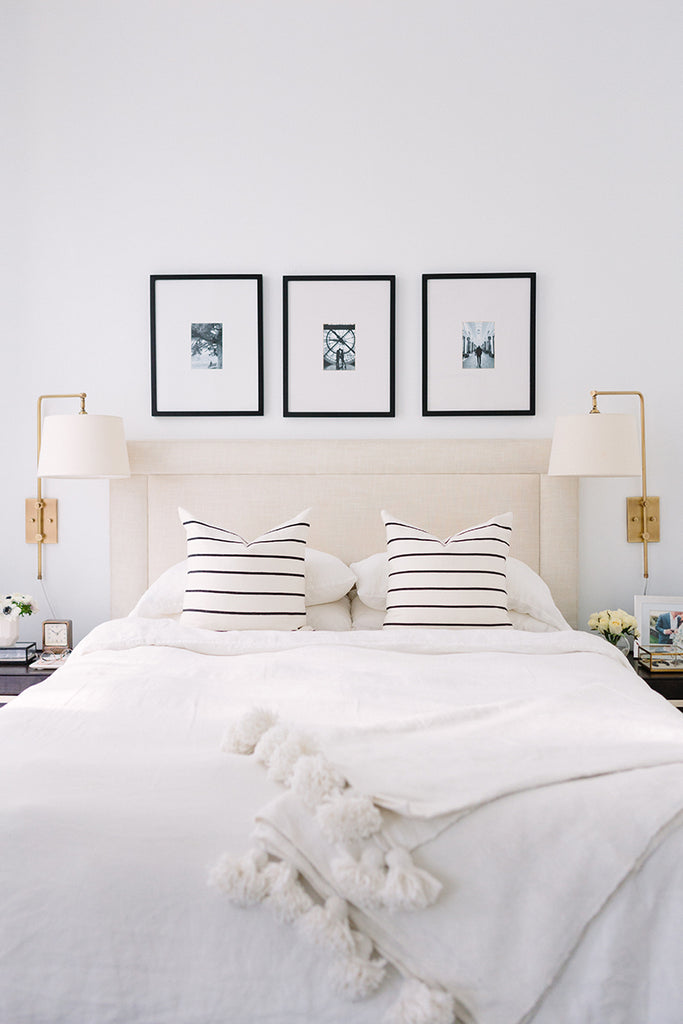 If it's winter, sleep under the duvet and use the quilt as an accent. In the warmer months, place the duvet at the foot of the bed or swap it for one that's more lightweight.
Play the pillow game
First the easy part: match your larger shams to the duvet and place those behind your day-to-day pillows (that match your sheet set). They tend to be bigger and fill the space closest to the headboard nicely. However, you can also stack them for a more modern look.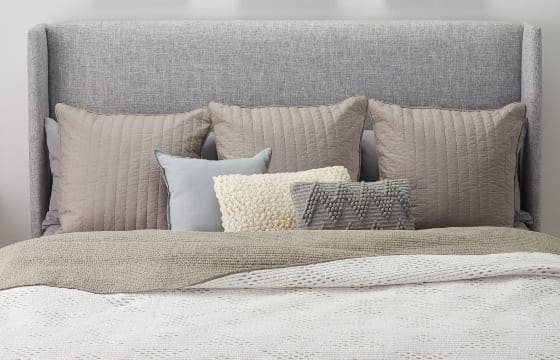 When it comes to accent pillows there's no perfect number. Ultimately, it's what you're willing to move each night! We tend to gravitate to 3 — you can do 3 completely different pillows, 2 that match in size and color with 1 smaller one in front or, even one long lumbar.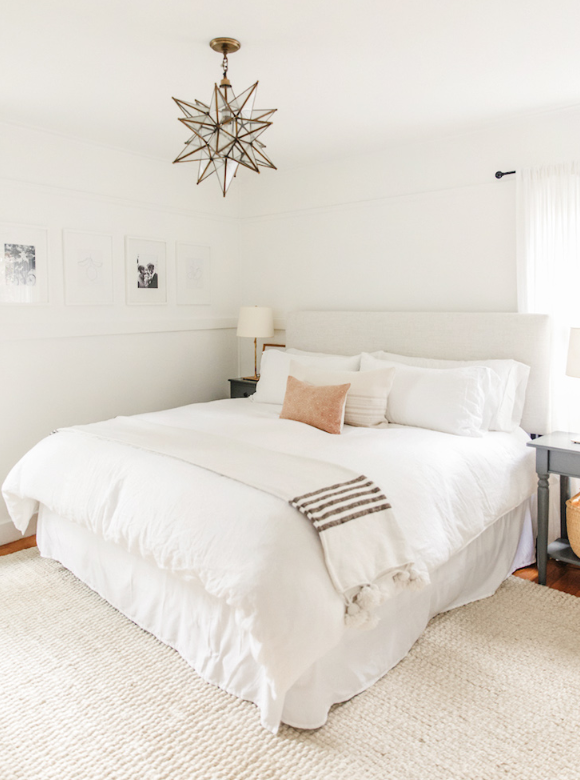 Add the finishing touch
Those final touches that pull the whole bed together? Well, a folded throw at the foot of the bed is a good start, or it can be casually draped along the side. It will really help pull together your color scheme or, at the very least, add in some gorgeous texture. Then put a little energy into cleaning up and styling your nightstands. Stack some books, lean a framed picture, or update your lighting. Even a few small accessories can help create that stylish bed space!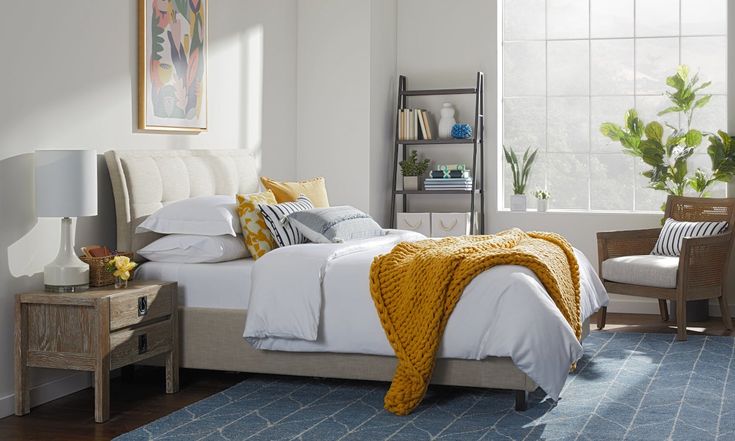 There are a number of different ways to arrange pillows on a bed, whether you enjoy the streamlined look of only a few necessary sleeping pillows or the luxury aesthetic of multiple decorative throws. A beautiful set of coordinated throw pillows adds texture and interest to your bedroom design, along with the benefit of increased comfort and support.
Home decor experts say to stick to a maximum of six to seven pillows on a queen, king or super king bed, five on a double, and three on a single, or long single bed. 
---